Encounter Your Destiny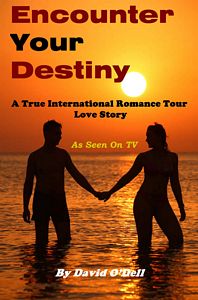 The Author, David O'Dell shares his true story on how he met his "true love", his wife on an international romance tour.
Imagine traveling to an exotic location, like Barranquilla Colombia, located on the Caribbean coast and joining eleven other guys with the same mindset of sincerely searching for love and a life partner. During your stay you will attend three socials on different days and at these socials you will be surrounded by one hundred different ladies each evening that are gorgeous, intelligent, available, and most importantly they are interested in meeting you! An experience unparalleled!
Before leaving for Columbia, David was content with his life and his routine. By his own admission he is just an average middle-class guy with brown hair, boy-next-door looks and height, who lives in a traditional 3-bedroom, home in the suburbs of Houston, Texas. David didn't "need" a wife. His decision to go on an international romance tour was based on the premise that at the very least, he'd see a beautiful city in a foreign country and have some wonderful travel memories. At most, if fortunate he'd find someone he truly cared for and could continue a relationship after the tour.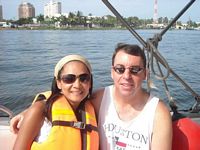 Little did he know life was about to get very interesting! In David's case, he can proudly state that from the moment he met his wife, he knew that they had a very special chemistry, un-matched by anything he had experienced in his life. And while David only spoke a small amount of Spanish, and Cristina spoke some English, they found that romance and chemistry are an international language all their own.
Encounter Your Destiny is a wonderful inspiring novel about true love that intertwines the books author, David O'Dell and his whirlwind romance and marriage to Cristina as well as the inner workings of the romance tour he attended. The novel puts you in the footsteps of David as he takes you behind the scenes - From David's life before going on the romance tour to when David meets his lovely wife Cristina to their wedding, he takes you through the actual international romance tour, from the moment you arrive in Colombia until the day you depart, and the filming of the romance tour by "Our America with Lisa Ling".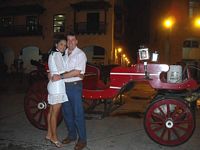 Bonus Section: Your Guide to a Successful International Romance Tour; You'll learn how the process works in detail, what to expect and what you should do - and not do - when you take one of these remarkable tours. What the tour agency does, what you should expect from a reputable tour agency. You'll learn about the "Socials" - the key to meeting and discovering how to interact with the ladies. What you can expect and what you can do to ensure a positive experience for yourself. You'll also gain valuable advice on what you should do regarding dating, what to do while you're dating women in another country, and what you need to do once you return home.